A Home Away From Home
Bed & Breakfast
Four Suites, Eight Guests
About Us
A Modern Home In the Heart of Bridgnorth
Looking for a place to stay in Bridgnorth? Look no further and stay over in one of our character-filled self-catering apartments or cottages. Our suites all feature modern furnishings, with walls painted in neutral hues of Farrow & Ball and finished with local artwork. We've installed Smart TVs, WIFI and all the mod cons to make your stay as comfortable as possible.
Discover OUR
Suites
At the Bridgnorth B&B Company all of our suites are equipped with;
Free WiFi (unlimited fibre broadband).
Self-catering kitchens (fully stocked with all kitchen appliances, utensils, tea towels etc).
Extras on request. Such as laundry service and Champagne upon arrival.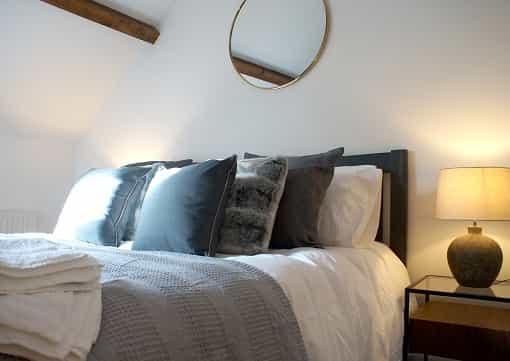 Barrel House Barley
A charming cottage brimming with character.
King Size Bed
Ensuite
Smart TV
Self Catering
Breakfast Hamper on arrival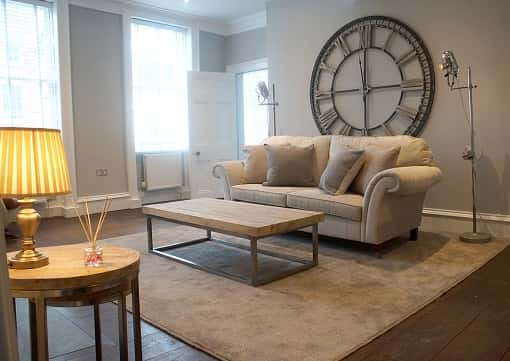 Hammerton Suite
An apartment filled with Georgian charm.
Double Bed
Japanese Bath with Shower
Smart TV
Period Features
Self Catering
Breakfast Hamper upon arrival
Continental Breakfast
We will provide you with a free continental breakfast for your first morning in our suite.
Coffee, Tea, Water, & Assorted Beverages
All of our suites offer complimentary coffee, tea and water on arrival.  
Dinner Upon Request 
Our suites are all closely located to our independent restaurant and bar The Stable Bar.  At The Stable Bar our ethos is to work with local and seasonal produce, ensuring the highest quality in our dishes and having a close relationship with all our suppliers.
We are lucky enough to have our meat sourced from our local Bridgnorth butcher, Beaman's Est. 1890, who source most of their produce from within Shropshire. We offer an imaginative Á La Carte menu along with a range of appetisers and light bites bought to you by Head Chef Theo Van Deventer and his brigade, evolving with the seasons and focusing on bold flavours and innovative techniques.
To book your table please use this link or call us on: 01746 764243
We were attracted to the Bridgnorth B&B company because of the location and facilities… We had a large and comfortable suite, the breakfast was excellent and above all the staff were friendly, efficient and very welcoming. The final positive was the very reasonable price of the suite – excellent value all round.
Rebecca Simpson
Free WiFi
All of our suites have access to FREE complimentary Wifi. (unlimited fibre broadband).
Self Catered Kitchens
All of our suites have fully working kitchens which are fully stocked with all kitchen appliances, utensils, tea towels etc.
Bedroom Comforts
Each of our suites have been uniquely decorated to make sure you enjoy your stay with us. 
Toiletries
Each suite has everything you will need to freshen up including, shampoo, shower gel and soap.
Additional Services
We offer extras such as a laundry service if required. Champagne on arrival, upon request.
Tea & Coffee
All of our suites offer complimentary coffee, tea and water on arrival. 
Have a Question?
Talk to the Host
I look forward to looking after you during your stay and I hope to make it as comfortable as possible.
Debbie Gordon, Your Host.

Such a warm welcome upon checking in. Bar was lovely to sit at for a pre and post dinner drink. We opted to not have dinner there but it too looked and smelled delicious. Breakfast the next morning was exactly that! Sad that we only stayed one night as it was conveniently located to all that Shropshire has to offer but will be back again!
Rachel Simpson
We thoroughly enjoyed our stay here and would definitely recommend it to friends and family. Our room was brilliant with the most comfortable bed. The food was great we had dinner one night and breakfast both mornings of our stay. Will be coming back.
David Thorton
Wonderful room and decoration, fabulous shower gel provided, delicious breakfast, felt very luxurious, excellent stay.
Annabelle Jones
The Stable Bar was lovely friendly staff our room was so big I have stayed in loads of bed and breakfasts over the years but the room we had was the biggest one we ever had Would stay there again every one was freindly and helpful.
Steve Dawson
Visit Bridgnorth in Style
We Have Vacancies!
To book your suite in our luxury Bridgnorth accommodation give us a call on: 07808 548782
Bridgnorth B&B Company 3 Whitburn Street, Bridgnorth, Shropshire, WV16 4QN